EU - Protect our health and environment from Monsanto!
To the European Commission and EU Member States:
As citizens around the world we are alarmed that glyphosate is "probably carcinogenic to humans." We call on you to exercise the precautionary principle and immediately suspend approval of glyphosate, present in herbicides like Monsanto's RoundUp. We request you include the studies in the International Agency for Research on Cancer's report in your current safety assessments, and ensure all reviews are transparent, based on independent studies, and evaluated by independent researchers without conflicts of interest. Until glyphosate can be proven safe, you must ensure people are not exposed to it.
---
Already an Avaaz member?
Enter your email address and hit "Sign".
First time here? Please fill out the form below.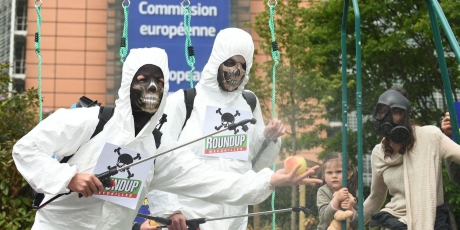 This is urgent -- we could be on the edge of a major victory that lands a giant blow on Monsanto's chemical empire!

Glyphosate is the world's most used weedkiller and makes a third of Monsanto's profits. It's everywhere --on our food, our fields, our playgrounds, even in our blood. Independent scientists say it probably causes cancer, but the European Union, under pressure from chemical kingpins, will vote on whether to keep it on our shelves in just 6 days!

Right now major powers like Germany and Italy are on the fence, leaving everything on a knife edge! With time running out before the end-of-June deadline when the glyphosate phase-out must begin, Monsanto is pulling all the political strings it has. But people-power and smart advocacy have already derailed the previous two votes on this, and with enough of us on board, we know we can do it again!

Sign the petition, then share it with everyone around you!